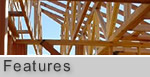 Welcome to KBIA
KBIA serves as an advocate for Kansas' housing industry, and as a corporate channel through which builders contribute time, money and services to local community service projects and education initiatives.
As an affiliate of the National Association of Home Builders (NAHB), a federation of more than 850 state and local associations with 210,000 members nationwide, KBIA is part of the most influential and active organization representing the building industry. KBIA members include builders, remodelers, developers, suppliers, manufacturers, and architects, engineers, real estate brokers, lenders, attorney , insurance providers, and other industry professionals.
Our web site is your source for information, news, and events associated with home builder associations in Kansas. We invite you to explore our site: get current information about events with our KBIA calendar, find links to other organizations within the Kansas housing industry, learn how to choose a builder or remodeler, or get exclusive information by signing in to our Member's Only section.